Two slightly later American groups were keenly aware of theosophy, oriental philosophy, occultism and spiritualism. The first, loose grouping of Arthur Dove, Marasden Hartley, Georgia O'Keefe and the photographer Alfred Stieglitz added to this awareness a feeling for the mystical qualities of the American landscape. The second group, based in New Mexico and led by Raymond Johnson and Emil Bisttram, benefitted from a familiarity with theosophy and with Kandinsky's book. In 1921 they joined the "Cor Ardens" movement of Nicholas ROERICH and in 1938 founded their own Transcendental Painting Group.
Marsden Hartley
AMERICAN PAINTER AND WRITER
Born:
 January 4, 1877 – Lewiston, Maine
Died:
 September 2, 1943 – Ellsworth, Maine

It is never difficult to see images – when the principle image is embedded in the soul.
Summary of Marsden Hartley
Marsden Hartley, one of the first American artists to paint in a completely abstract mode, was part of the circle of artists, including Georgia O'Keeffe, Arthur Dove, Charles Demuth, and John Marin, who congregated around and were promoted by photographer Alfred Stieglitz. Hartley incorporated into his own paintings the abstract trends that he witnessed first – hand during his time among avant-garde artists in Europe during the 1910s. While his early abstract style met with resistance back in the States, Hartley, undeterred, continued to paint his more recognizable subject matter with the same vivid colors, sharp contrasts, simplified forms, and ambiguous space that he mastered early in his career. His landscape paintings, imbued with the spirit of 19th – century American Transcendentalism, as well as his later portraits, which convey a love for and the earnestness of his subjects, are a uniquely American version of modernism that continue to resonate among younger contemporary artists today.
Accomplishments
While initially known for his more radical abstractions, Hartley used formal devices, such as strong colors and simplified forms, to convey the weightiness and groundedness of his preferred subjects, whether landscape, portraits, or genre scenes, that created a tension with the two-dimensionality of the picture plane.
Unlike his colleagues, Hartley spent several extended periods of time away from the United States, living in various parts of Europe as well as Mexico. These experiences exposed him to a much wider swath of avant-garde activity than was available in the U.S. as well as extended encounters with unfamiliar landscapes. One of the results of his travel, however, was an isolation from his fellow artists, which Hartley both welcomed and lamented.
Not a traditionally religious man, Hartley was steeped in the spiritual ideas of 19th-century Americans 

Ralph Waldo Emerson

, 

Henry David Thoreau

, and 

Walt Whitman

. Additionally, he was drawn to Eastern religions such as Buddhism and Hinduism and was familiar with more esoteric traditions such as 

Theosophy

. Hartley's own syncretic spirituality pervades many of his paintings, especially his landscapes.
While he rarely discussed his private relationships in public, many now surmise that Hartley had several homosexual relationships throughout his life. At various points, he commemorated these relationships – more subtly in his early painting and more overtly in his later paintings – making Hartley an important early touchstone for gay identity in the United States.
Biography of Marsden Hartley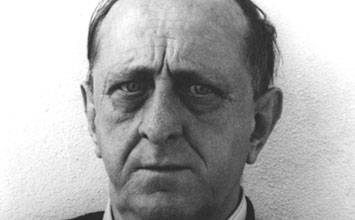 Edmund Hartley was the youngest of nine children born to English immigrant parents Thomas and Eliza Jane Hartley. The death of his mother when he was eight years old affected him profoundly; many years later, Hartley explained, "I was to know complete isolation from that moment forward." His family was soon after divided, with Hartley forced to live with an older sister in Auburn, Maine. To assuage his loneliness, he found solace in the comforting embrace of nature, something he would cling to throughout his life. Hartley's love of the outdoors also led him to imbibe the writings of American Transcendentalists Ralph Waldo Emerson and Henry David Thoreau in addition to the poetry of Walt Whitman.
Important Art by Marsden Hartley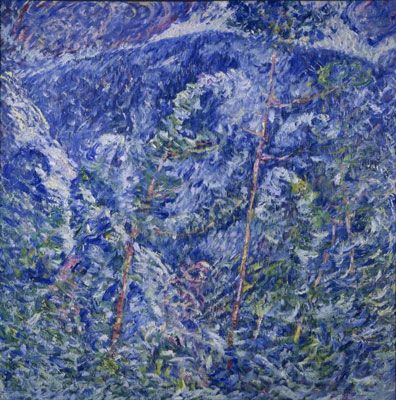 The outline of tall brown tree trunks and evergreen branches are barely visible in the flurry of loose brushstrokes that comprise Hartley's Winter Chaos, Blizzard. The shades of blue, pink, and white dabs of color that fill the rest of the canvas show the winter storm that envelops the tree-lined mountain landscape.
This work provides an important example of the Impressionistic style in which Hartley rendered his early landscape scenes; and yet, as noted by historian Gail R. Scott, the approach is distinctly his own and more direct in both subject matter and color application than the "gentle atmospheric snow scenes" of other contemporaneous American artists painting in the Impressionist style. The painting also exhibits what would be a lifelong theme in his work, drawing inspiration from personal experiences with nature; here the rough, stormy winter he experienced in 1908-09 when he lived alone in North Lovell, Maine.
While Hartley quickly moved on from Impressionism, these works garnered him early attention. They were well received when shown in Boston in 1909 and led to dealers Maurice and Charles Prendergast connecting the artist to William Glackens and his group of like – minded artists in New York City with whom Hartley would begin creating early modernist works.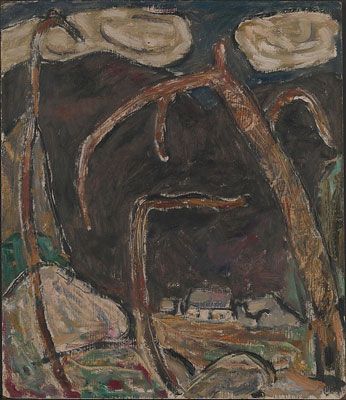 A large brown mountain occupies two-thirds of the canvas in the background of Hartley's painting. Set under a gray sky and threatening winter storm clouds, a simple one story house is depicted in the center of the painting in front of the mountain. In the foreground is a rocky landscape with barren trees that curve into the center of the composition.
This work is an important example of one of Hartley's earliest series, the Dark Mountain paintings. This work, which is more somber than anything Hartley had created prior, shows the sway of American artist Albert Pinkham Ryder, whose works he saw in 1909 and who he met later that year. Hartley was immediately drawn to Ryder's ability to capture nature in a dramatic way and in response to seeing Ryder's work, he stated, "…it had a sense of realism besides that bore such a force of nature itself as to leave me breathless."
With its monochromatic colors and loose gestural brushstrokes, which Hartley would embrace throughout his career, the artist used the brooding landscape to explore his own emotions. The mood is evocative of loss, even death, and Stieglitz intimated that Hartley was, in fact, having suicidal thoughts at this time.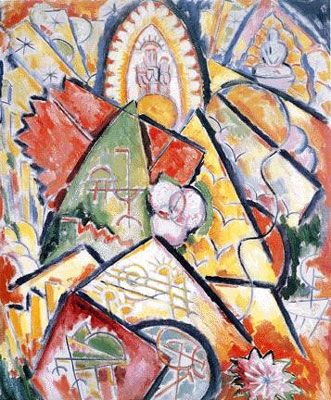 Abstract forms in vibrant shades of green, orange, red, and yellow outlined in black lines dominate Hartley's Musical Theme (Oriental Symphony). References to music, such as staffs, clefs, and notes, abound in the painting as does religious imagery, including references to Buddhist and Indian religions as well as mystical symbols such as the eight – pointed star.
Hartley was not a traditionally religious man, but he was steeped in the writings of American Transcendentalists such as Ralph Waldo Emerson and Hendry David Thoreau. Additionally, in 1907 he spent several months at a utopian religious community, Green Acre, in Eliot, Maine, which engaged in comparative studies of world religions and was home to Theosophists and other mystically inclined visitors. Here, Hartley immersed himself in reading and had numerous conversations with the members of Green Acre. His interest in Eastern religions likely began at this point.
The musical references found in this painting are more directly linked to his exposure to artist Wassily Kandinsky and the works of the German Expressionists of the Der Blaue Reiter (Blue Rider Group) during his first European trip in 1912. While Hartley employed musical symbols, we also see him making references to music through the rendering of paint on the canvas as well as taking on an improvisational approach to mark making.
One can also see influences of Picasso's Analytic Cubism in the way Hartley structured his composition. In many ways this immersion in modern European painting helped to advance Hartley's career, yet it would also be the thing that slowed his artistic advancement once he returned to America, where the general public and even many critics were less ready to accept the unfamiliar and distinctly European approach to art.
More Important Art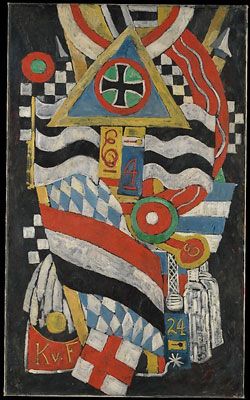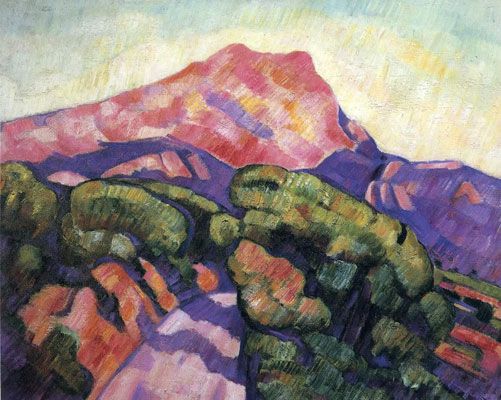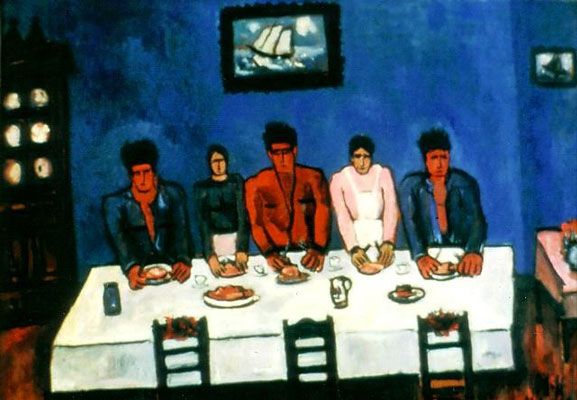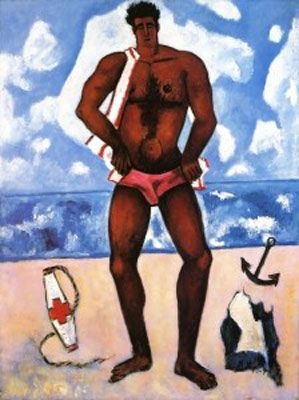 Influences and Connections
INFLUENCES ON ARTIST

INFLUENCED BY ARTIST
Useful Resources on Marsden Hartley
The books and articles below constitute a bibliography of the sources used in the writing of this page. These also suggest some accessible resources for further research, especially ones that can be found and purchased via the internet.
Biography
Marsden Hartley

By Gail R. Scott

Marsden Hartley: The Biography of an American Artist

By Townsend Ludington
Written By Artist
Somehow a Past: The Autobiography of Marsden Hartley

OUR PICK

By Marsden Hartley and Susan Elizabeth Ryan

The Collected Poems of Marsden Hartley, 1904 – 1943

By Marsden Hartley and Gail R. Scott